published on:
15 June 2017
This was my first OMTWS and a delight to attend. I reflected on the vibrancy, creativity and inventiveness of the South African wine industry. Trophy and Gold winners are adjudged to be World class. The sheer hard work and commitment, investment included, by the owners and winemakers (judges too) were as impressive as humbling.
The Old Mutual Trophy Wine Show (OMTWS) is South Africa's premium wine competition with 2017 being the 16th edition. The Judging Panel comprises three international and six local judges, with a range of expertise. They judged 960 wines from 198 producers using the 100-point scoring system.
In addition to the trophies and gold awards, 135 silver and 460 bronze medals were awarded. Tokara was the Most Successful Producer for second time which is some achievement for a vineyard that made its first vintage in 2001. Stellenbosch is widely regarded as the heartland for fine wine so it was interesting to learn that the Best Shiraz/Red Wine Overall and Blended Red went to vineyards outside the area: Leeuwenkuil Family Vineyards from the Swartland and De Krans from Calitzdorp, respectively.
A Trophy was awarded to a Pinot Noir for the first time in many years - this accolade went to Paul Wallace Wines from Elgin. I looked forward to tasting some of the Portuguese varietals that had won Best Non-Bordeaux Style Red Blend and Best Niche Variety.
Showcasing at the Roadshow
I was fortunate enough, courtesy of wine.co.za, to go to the Cape Town Show event held in the CTICC (there's another held in Johannesburg) and what a feast of fine wine it was. More than 100 producers – from Allée Bleue Wines to Zorgvliet Wines – filled the large, noisy conference room. Most had one or two award winning wines to taste, and a few with up to five, to make a dazzling 171 wines on show. It was obviously impossible to taste but a fraction. I decided largely to avoid the vineyards I have visited and enjoyed – Bouchard Finlayson, Buitenverwachting, Cape Point Vineyards, Constantia Uitsig, Delheim, DeMorgenzon, Diemersdal, Glenelly, Ken Forrester, Morgenster, Oak Valley, Paul Cluver, Simonsig, and Steenberg – though did pass by to congratulate. As I read the list now, these are some of the highest scoring vineyards I have rated since starting the blog. I looked too for Arendsig, Hamilton Russell, De Wetshof, Springfield and Klein Constantia as I felt sure they would have gained medals for their amazing wines too. Curiously, they were absent.
Instead, I focused on the top award winners, lesser known vineyards, and the unusual varietals. I briefly scored each wine I tasted (using my usual 20-point criteria and 10-point 'likeability' assessment). This proved to be an interesting challenge in the company of fine wines so highly and, to some extent, evenly, rated. It worried me for a while that my scoring was so high and so even but then I realised this was likely to be so.
Prices interested me as well and were not all as expensive as I might have expected. The Paul Cluver Pinot Noir topped out at R500 but most were in the R200 price bracket.
I shall not describe each wine I tasted (I hear you sigh a relief) but shall focus on those I liked and scored highest. As ever, 20-point scoring has to be objective (not always easy with personal style preferences) but the 10-point 'Likeability' score is subjective.
Judge Peter
Peter's 'judging' awarded top marks to the Cavalli Cremello, the DeMorgenzon Chardonnay and the Cabernet Sauvignon from Benguela Cove. The Cremello – incidentally, the lowest priced Trophy winner ever (R140) for Best White Blend – was a watery pale straw but with an unusual colour tinge. I couldn't easily place it under the bright Conference Room lights but it was akin to a pale orange blush. The notes delighted. Complex honey, floral jasmine, peach, apricot, warm apple mingled to excite. It was crisp on the palate, not overly aggressive, with excellent follow through to a lingering, fresh finish.
DeMorgenzon is one of those vineyards whose wines I just know I will enjoy. I had tasted the Reserve Chardonnay before and scored it only my second perfect 20/20 (the DMZ Chenin Blanc being my first). The warm baked apple nose melted into restrained oak that added to, rather than hid, the fruitiness in perfect harmony. My only surprise was that the Chenin Blanc was not also an award-winner. Perhaps it was not entered.
I didn't visit Benguela Cove during my recent trips to the Hemel-en-Aarde and Elgin valleys with Benguela Cove laying between the two. The estate is surrounded by the Botrivier Lagoon on two out of three sides. The Cabernet Sauvignon was refined and elegant. I liked the cool climate style. Fruit and tannin balanced with delicate precision. The wine offered up a perfect trio of shiny medium ruby colour, warm, spicy fruit nose (red cherry, dark plum, mulberry with white peppercorn) and integrated, silky tannins. I would have awarded more than a Silver medal.
Other Highlights
Other white wines that stood out were from Stark-Condé. The Trophy-winning Sauvignon Blanc was the first wine where I picked up distinctive fynbos aromas. Many wines describe fynbos flavours but I have detected few. Fynbos notes layered with sweet citrus then soft guava for an engaging nose. Follow through to the palate was exact, with a crisp mouthfeel containing fresh acidity and minerality combining for an elegant finish.
The Verdelho cultivar was new to me and a rising star among the award winners. The single variety from Credo in Stellenbosch, double Trophy and Boutique winner, could have been wooded. The silky caramel flavours on the palate are from 8 months on the lees and a Chardonnay style of wine-making. Aromatic herbaceous and citrus notes gave way to fruitiness on the palate.
Verdelho was a major share (50%) of the white Tritonia blend (50% Malvasia Rei) from De Krans. The wine farm is better known as one of the leading port style producers but also for innovation. Verdelho is a Portuguese cultivar common in Madeira and used for wine of the same name. Malvasia Rei is also grown in Madeira and often used to make sherry in Portugal and Spain. The blended wine was aromatic with honeyed notes of stone fruit and tropical fruit (peach and guava). Off-dry, it melted on the palate to a soft finish.
I preferred the Trophy-winning Tritonia red, made too from grapes I had barely heard of. I had tasted a single variety Touriga Nacionale at Bergsig but not the Tinta cultivars. There were Shiraz-like similarities in the purple-tinged medium ruby colour and fruity spiciness on the nose. These aromas combined on the palate with lightweight yet firm tannins. I shall certainly make a point of visiting the Calitzdorp region and De Krans before long.
The large conference room was busy and full. Tasters appeared to me a blend of those from the industry, wine enthusiasts and casual drinkers. The signs above each stand were clear but not quite in alphabetical order so one could easily find a particular vineyard. Perhaps this was deliberate. I hunted out the Pinot Noir from Paul Wallace in the Elgin region, another Trophy winner. The wine offered the warm cherry aromas I prefer, mixed with strawberry and peppercorn spice. Silky not rough on the palate, I liked the follow through and soft elegance of tannin with fruitiness.
Fable Mountain Vineyards from Tulbagh is famed for its Rhône varieties. The unfined and unfiltered Syrah, made in classic European-style, was a winner for me as well as a Gold medal holder. It was everything I liked about the cultivar. Lighter in body than some Shiraz (and I use that word deliberately), it had classic ruby-purple colour; dark berry-plum and chilli-peppercorn notes that perfectly balanced; and a palate that invited more. Spicy on entry, rounded acidity and persistent tannins held on for a refined finish.
Light snacks and food were on offer but I did not buy as I wanted to use my time to sample the many superb wines on show. I noticed two interesting displays with bowls and jars containing fruit, spices and other examples of the principal aromas and flavours found in wine. The displays appeared to be little noticed but obvious thought had been put into them. Note cards giving simple characteristics of each varietal were equally useful.
Mutual Benefits
I noticed trends that I have picked up elsewhere on my tasting visits to over 60 vineyards, of which I shall soon write more of. I don't recall having tasted one heavily wooded wine, for example. I am sure there were some but they were very much in the minority. Terroir-driven, mineral rich, elegant wines are the new fashion. I was fascinated too to see and taste the Portuguese cultivars that typically are used for port and fortified wines.
I could easily have stayed for long after closing time. I shall certainly plan to attend next year. The benefit and the attraction were truly Mutual!
Wines tasted (* bought):
MCC
S - 2012 Cederberg Blanc de Blancs (Chardonnay) Brut MCC Classique – R160
White
TB - 2015 Stellenbosch Vineyards Credo Limited Release Verdelho – R250
T - 2015 Cavalli Cremello (42% Chenin Blanc, 31% Chardonnay, 27% Verdelho) – R140
T - 2014 Deetlefs Famille White (90% Sémillon, 10% Sauvignon Blanc) – R295
T - 2016 DeMorgenzon Reserve Chardonnay – R354
T - 2016 Stark-Condé Mountain Reserve Sauvignon Blanc – R175
T - 2015 Tokara Director's Reserve White (71% Sauvignon Blanc, 29% Sémillon) – R245
G - 2016 King Kloof Sauvignon Blanc – R75
G - 2016 Marianne Sauvignon Blanc – R175
S - 2015 De Krans Tritonia White (50% Malvasia Rei, 50% Verdelho) – R180
Red
TB - 2015 Landzicht Winemaker's Reserve Cabernet Sauvignon – R140
T - 2015 De Krans Tritonia Red (67% Touriga Nacionale, 22% Tinta Barocca, 6% Tinta Roriz, 5% Tinta Amarela) – R180
T - 2014 Leeuwenkuil Heritage Syrah – R300
T - 2015 Paul Wallace Brave Heart Pinot Noir – R185
G - 2014 Fable Mountain Vineyards Syrah – R375
G - 2015 Paul Cluver Seven Flags Pinot Noir – R500
S - 2014 Benguela Cove Cabernet Sauvignon – R180
Trophy (T): highest Gold medal winner in a class
Gold (G): 90 to 100 points out of 100: superlative, world class
Silver (S): 80 to 89 points out of 100: excellent, wine of distinction
Museum Class (M): entries at least 4 years old (white wines) and at least 8 years old (other classes)
Boutique (B): between 600 and 900 litres produced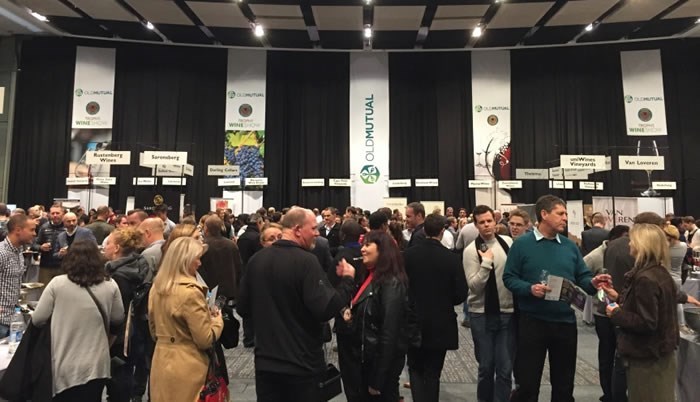 To read this online, click here.